A girlfriend of mine recently got very upset after reading one of her favorite blogs.
To all the lovers,
To all the friends,
An evening spent with two friends.
Both of whom respect me, accept me, and love me.
The Toronto International Film Festival is in it's full blown glory. That means parties and events. Which means getting all dressed up. I'm okay with that.

I get to pull out my fancy stuff, and get all gussied up. I'm not one to wear heels often, but sometimes it's fun to pull out the stops. In this case though, knowing I was going to be running around for hours, I opted for a low heel, with big impact.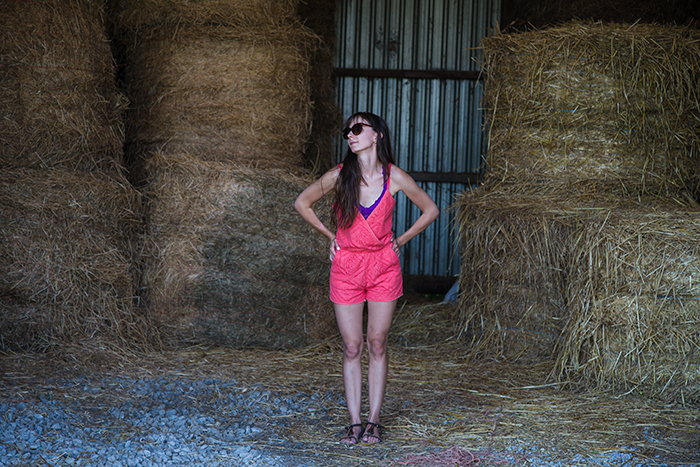 Here's what a road trip with me looks like:

There's lots of tunes. Lots and lots of themed music.
Coffee. It's a must, and it's pretty much my only vice…except for scotch. No sugar, no junk, nada.
And then there's the requisite surprise that will occur. I will at some point, maybe more than once, randomly pull over on the side of the road.
Then we will traipse through whatever the terrain is, possibly trespass onto private property, towards that thing I saw. That thing I saw is some place interesting where I want to take some shots.
In this instance, it was a hay barn. Off to the shoulder the car went. And off we went through ditches, trees, and crops to this little barn. It's where I took my leather halter top shots too.
Moral of the story? When you road trip with me, be prepared for anything.
And don't forget the coffee.
*p.s. I love all the beach sand still stuck to my legs and arms!*
We all feel it. We all react to it. It's fight or flight, right? We either run towards, or away from it. Fear, in some way or another, motivates us. I don't think it's all bad either. It's just a part of our being. An emotion, both good and bad. It can hold us back, but it can also motivate us forward.

Trying new things. Being honest with someone. Telling people what you want, what you need. Pursuing dreams. Being yourself. There's an element of fear in all of it. so, like I said, I don't think it's the bad emotion we think of.
I like the idea of fear. Usually when I feel fear, in our modern society, it's not because of actual danger. It's usually because there's something I'm thinking of doing or saying that's outside my comfort zone. In that case, I need to check in. Is this indeed something that I need/want to say/do?
If so, then the fear is a great barometer of my honest self. Am I being honest with my self? Truth and honest and full living, while deeply fulfilling can be a scary concept. Embrace the fear.
this post has been brought to you with a smile.
Long weekend here in Canada. I'm personally heading to the cottage. Gonna enjoy the love and laughs with a whole bunch of great friends. And that delicious, worshipful pleasure of staring at a campfire in the night and smelling it in your hair the next morning.
It's great to indulge your senses like that.
On my bike that is. My bicycle is tuned up and on the road. I know, I know, some people continue riding all year 'round. I admire those people…..those crazy people. Me? I like to ride my bike when it's warm – ride all around the city – but not when it's cold. So there's this moment in Spring that occurs when the days are reliably warm enough that me and my bike are traipsing about town getting errands done.
It's also really cool to be able to do that first 30 km ride and be totally fine afterwards. Here's to cycle season!