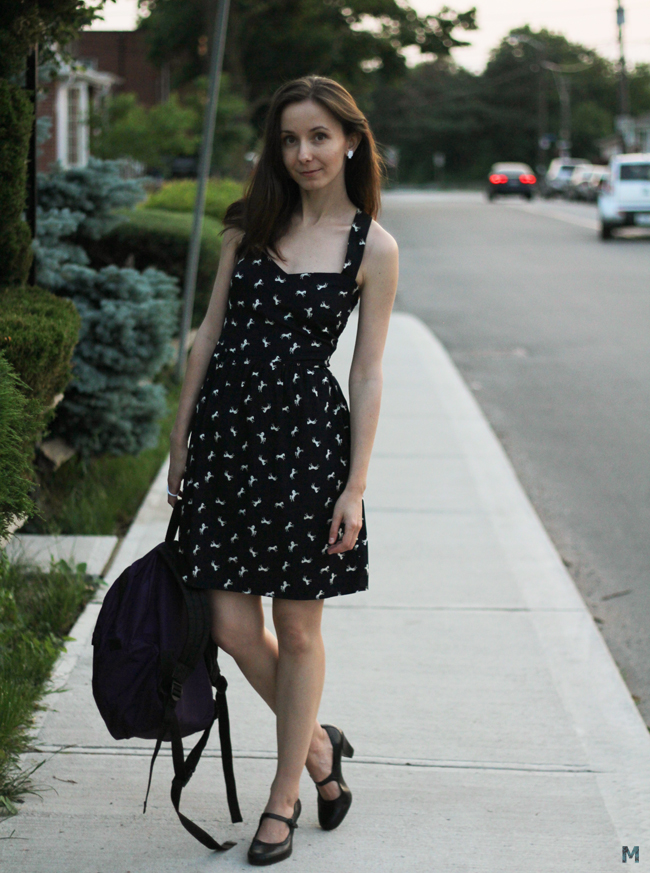 Dress – Ruche
Shoes – Clarks
When I'm shooting I tend to forget about myself, in that I forget until I'm coming home and totally losing the light that I have not even one photo of the day's outfit. That's how I got this one: coming home from a recent shoot, totally losing the light, hence, all the graininess. You can't even tell that the dress is a dark blue.
That backpack there holds my on site necessities – camera, lenses, extra cards, etc. And yes, I wore heels to a shoot. First off, the method to my madness is that I was shooting headshots for a man, and in order to get the best shots, I wanted to be either shorter than him, or almost at eye level, so I needed that extra little boost of height. Secondly, you wouldn't be the first to say that I don't have to dress up since I'm the one behind the camera. But I would argue that:
A) I'm meeting a client, so looking good (not old jeans and t-shirt) is important.
B) I'm in the image business (pictures) and what does it say when I'm not at all conscious of the image I create.
C) I like to dress up. I would much rather be overdressed than under dressed for the game of life.
Quote of Today:
"When your neighbors yell 'score!' You should yell back 'penalty shot!' or 'checking from behind!'"