They say that you're not alone in your struggles.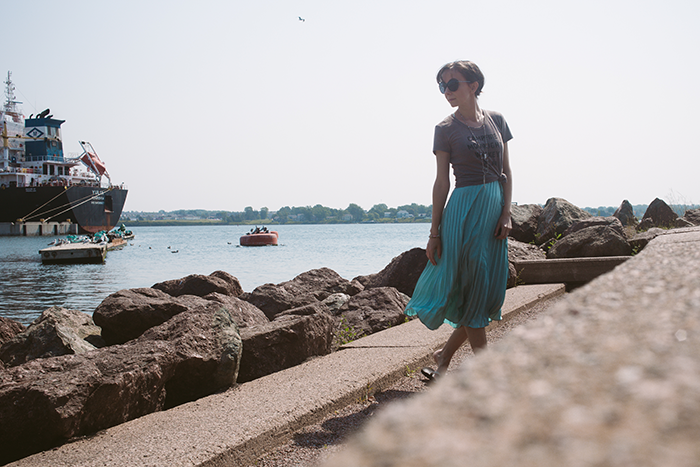 Though this was a vacation, there was a reason behind it: he had to work one of the days.
Pleated Dress – Ruche // Cardigan – Smart Set // Tights – Hansel From Basel // Thigh High Socks – UO // Boots – Locale // Necklace – Vanessa Mooney
Day two in Ottawa was windy, can you tell? It's odd to sit here looking at these shots now that I'm back. It feels ages ago, though it was only three days ago. I guess that's what a busy and tiring weekend will do to you. I've had the pleasure of having three great photo shoots booked this weekend, so needless to say, I'm knackered! But excited about editing and getting some Spring cleaning/downsizing done.
You guys doing Spring cleaning? Any tips???
Combined Sweater – Vero Moda // Pleated Skirt – Esley // Tights – F21 // Boots – Locale // Earrings – F21
Baby Girl. Ugh, we've been trying to get her to go poo on the toilet. Which is a lot harder than it sounds. She holds onto it. She will go first thing in the morning before we get her diaper off, or hold it all day and go at night once the diaper is back on. No budging what so ever. So after giving up that struggle, we have bought a little bag of chocolate and reward her with a treat when she goes poo on the toilet.
Now she holds it and only goes a little bit at a time. Getting thrice the number of treats. She's a scammer that one. She's way smarter than us.
When your kid's throwing a huge tantrum, or just plain being demanding, when you haven't slept, or eaten because you've been running ragged, and when they've fallen *or whatever* despite being told four dozen times not to do it or "You'll hurt yourself," that's when you pick them up and hope that it makes them quiet for a moment.
And that's when they dose you. Don't be fooled. It's not an accident, and it's not coincidental. I'm firmly convinced that my kid knows exactly when to release that smell. The one on the top of their heads. You know the one I'm talking about. The one that sends you into perfect relaxation and bliss. The one that makes you love them and feel like being with them is Nirvana. I don't know what the technical term for it is, but I like to think of it as "Mommy crack."
She's got it down to a fine art. She's got it timed. She knows exactly when her Mama needs her next fix so as to not go completely off the rails. She's my drug dealer, and she's also the supply. So I can't cut out the middleman in this.
The drug is the middle man.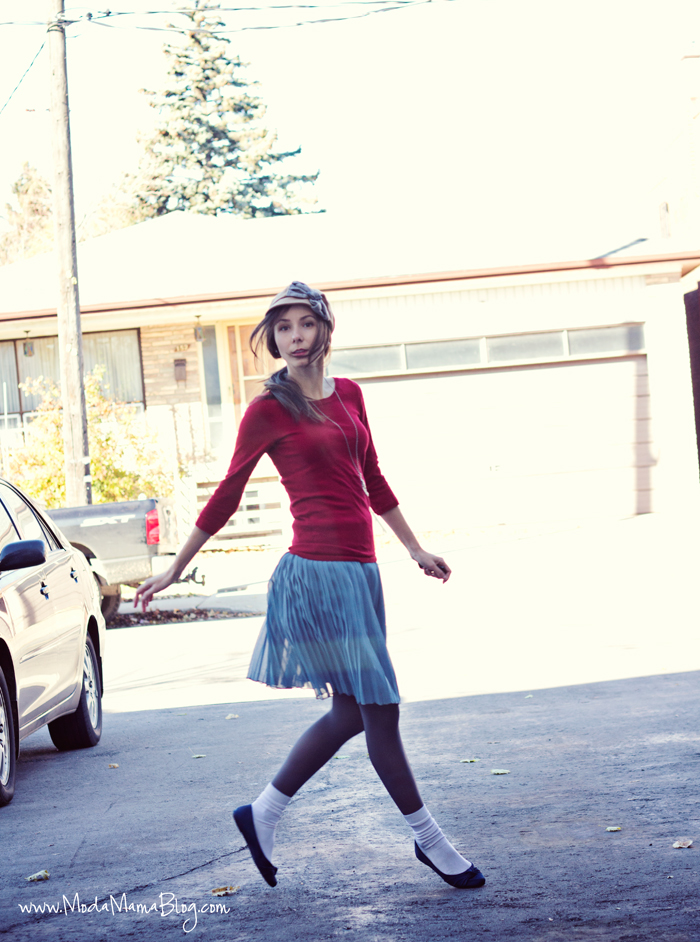 Sweater – hand me down // Skirt – The Spotted Moth // Hat & Necklace – Ruche // Tights – F21
Socks – Hue // Shoes – Payless
Sometimes getting dressed is like putting on a costume. It's a chance to become a different character for the day. This day I dreamt I was a Parisian woman on a brief respite from studying something profound to a nearby cafe. Full of whimsy and charm.
Even though in reality I was corralling a toddler and a dog at the local playground. So really I probably should've been wearing a cowboy hat and carrying a rope. But dream we must.
Quote of Today:
"He poked his head over the futon and just stared at me, then the futon."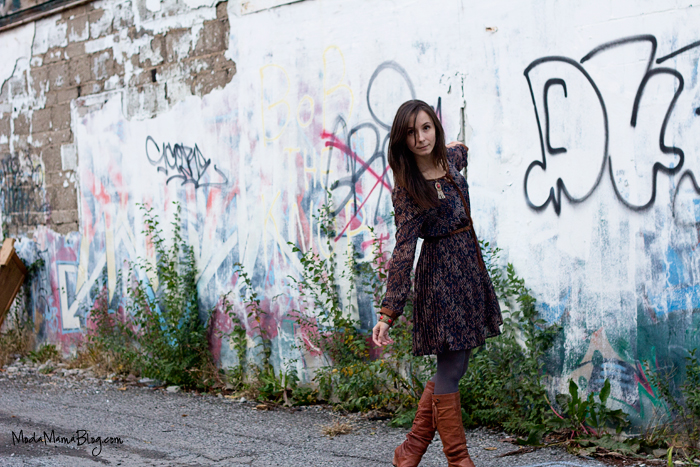 Dress – Blue Pepper from Ruche // Necklace, Bracelet, and Earrings – Threadsence // Tights – F21 // Boots – Feet First
There's something about the combination of brown and blue, especially a really rich tone, that feels just perfect for Fall. It's one of those palettes that has just been made for the season. It's almost become a cliche just because it looks so right, but hey, I've never been one to shy away from a good cliche. They become cliches for a reason.
And I'd rather listen to a good cliche any day over some of the dribble that I hear on a daily basis. Like the teenage girls on the metro who were talking about not wanting to exercise to get thin because they don't feel like it, so instead they take diet pills…along with all their other pills. Sometimes I just want to shake young women, or sit in a corner and cry. Do you realize what you're putting into your body? Do you realize what ideal you're buying into?
I'll take a good cliche any day.
True Story:
Andrew is cooking and Drake the Dog is not more than two inches away from him at all times in the hopes that something will fall, or that he'll get offered some treat. Andrew offers him a piece of celery. Drake takes it walks away and drops it on the floor in distaste. Baby Girl, who just happens to be sitting right there, picks up the celery without missing a beat. And pops it into her mouth saying, "Thank you Dwake!" Only time she's ever eaten celery.
Cardi – Esprit
Top – Costa Blanca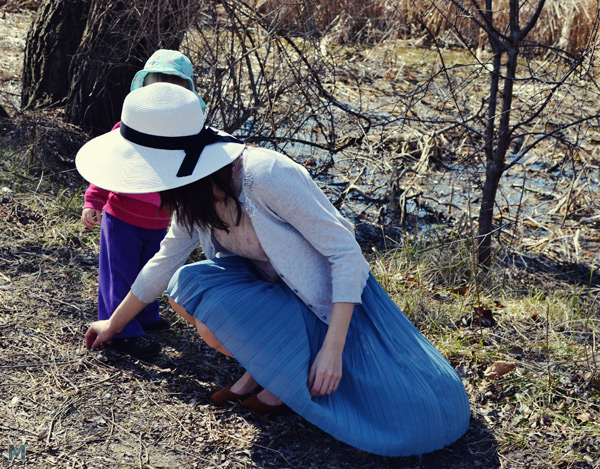 Top – Thrifted
Cardi – Old Navy