The way home was different…literally. We took a different route, stopping at Sauble Falls and Sauble Beach. 
The Falls are noteworthy on either side – and a foot bridge that connects the two. But one side was calling to me to climb down and get into the falls and onto the slippery rocks. One side, also had an enticing tree over the water that just begged to be climbed. Who am I to resist?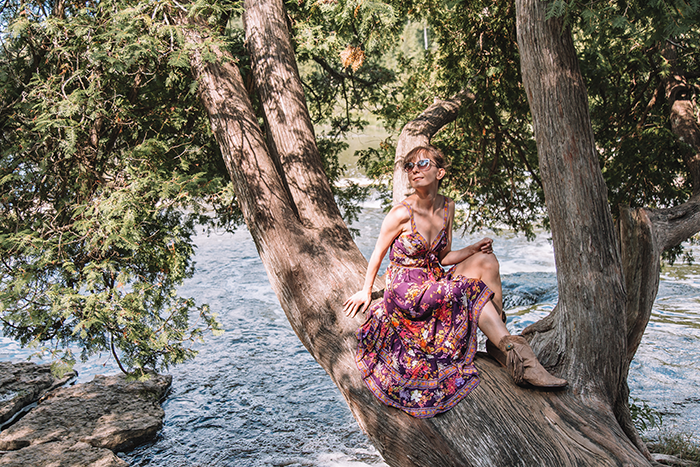 Sauble Beach was well, a busy beach. It was PACKED. It was a bit chilly, and so I lay under our beach umbrella and read peacefully until it was time to get back int he car and head home….after some delicious beach side fish 'n chips. I'm not crazy! Some lovely fried food after all the healthy and green and easily carried food we had been eating was exactly what I needed to top off the trip. 
Dress – Tulle and Batiste via Earth Elements Boutique
*see my shopping guides on the side bar and check out the brands and boutiques. The color and quality of this dress is to die for.*
Shoes – thrifted
Hair Tie – Spell Designs Kimono sash *see previous post*
Sunnies – Black Daffodil