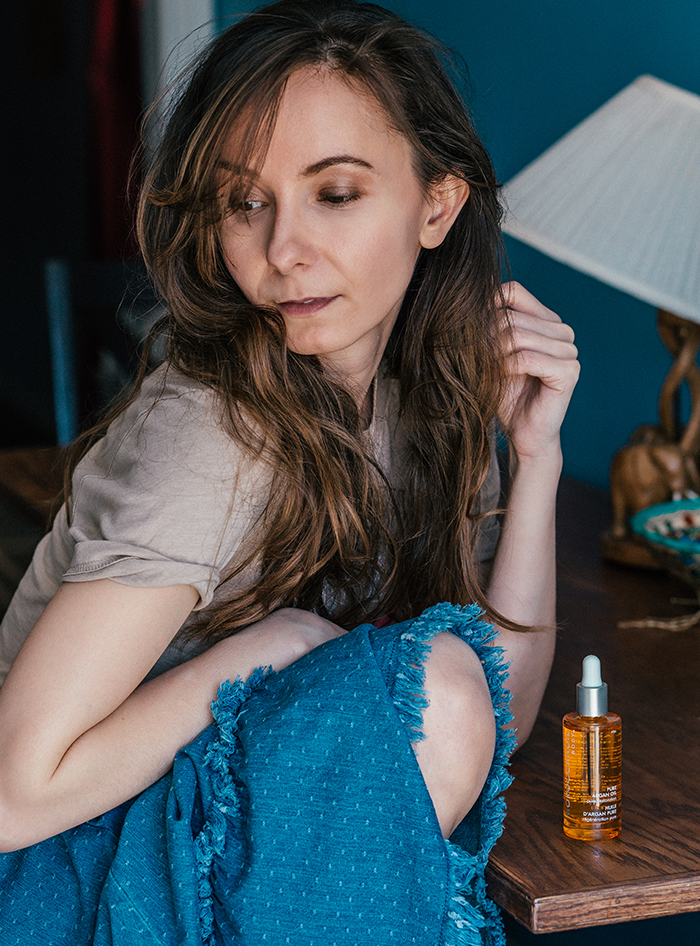 My own personal beauty aesthetic is simple: organic and natural.
I was approached by Tanya, who's a reader and a fan, about trying her fabulous product. She knows I'm all about natural and organic here when it comes to cosmetics, and she thought her product – Beelieve Hydration Balm – would be right up my alley.
She kindly asked me to try it and to send her my thoughts, never asking for a post about it, but I thought I'd share it with you guys because it's kind of awesome. All the ingredients are natural oils and essentials oils. It's a balm that's good for your skin, and your face. The balm has been fabulous for my humidity frizzy hair. It calms and hydrates the frizz and nourishes my strands.
I've also been loving it as a skin treatment for my legs and arms. After the sun I find my skin gets dry – combination of sun and sunscreen – so I've been slathering it on in the evening after a shower. Feels so great. And my skin drinks it up with love. The smell is really lovely too. Guys honestly, give this a go.
Pure
+ Simple was originally to be a place that consumers could shop with
the assurance that none of our beauty products contained toxic chemicals
and synthetic ingredients. But as we evolved we saw that healthy,
holistic beauty is much more than chemical-free skincare, it also
involves addressing your internal health and balancing your
constitution.
We
began with a modest three room spa on Yonge and Eglinton (2375 Yonge
Street), which we still have. This spa has a retail area in the front
that walk-ins could purchase natural skincare and cosmetics from. It
was a tough start because this was over ten years ago and most people
had not learnt about the importance of avoiding chemicals in their
cosmetics. But we did have a fierce, devoted core group of regular
customers. They were mostly made up of hypersensitive skinned people
who could only use soothing, natural products. We were able to develop
with their support.
My book
Beauty: Pure and Simple is a guide to beautiful skin through holistic
wellness and natural/ organic skin care. Because I am an Ayurvedic
Practitioner and esthetician, my approach is steeped in eastern medicine
(Ayurveda). Through this, I explain general skin care but also how
ailments such as acne, rosacea, eczema and pigmentation have root causes
in the internal body. Its important to understand the role of internal
inflammation, hormonal imbalance and dampness/ yeast in our skin's
health. I go in depth about internal solutions as well as natural
topical skincare solutions.
Acne
is a complex beauty issue as it can be aggravated by many factors. In
my book I explain the different types of acne and their causes – for
example, some break outs are caused by inflammation, while others are
caused by dehydration. One thing I think is important is to know that
acne is not simply caused by bacteria or clogged pores, they are a
symptom of some other imbalance.
I think that
bowel detoxification is also key when treating acne and I ask about this
to all of my acne clients. This must be paired with a proper diet –
but again, diet must be tailored to the cause of the acne, and different
people with different acne types with have different food
recommendations (based on Ayurveda).
Not
at all! That is a common myth. It depends on the type of oil – a good
natural plant-based oil should never clog pores and cause break outs.
Also, oils such as coconut oil are light, soothing and even have
anti-bacterial properties. Oils like this are great for acne.
I never
advocate dehydrating and drying out the skin or over-peeling, so our
approach would never be aggravating to your sensitivity. I would say
our approach would be to heal rather than do harsh, deep pore methods of
treatment, unlike most approaches.
Well,
first I would say that getting older is simply a transformation – so
while I believe in supporting the sin while we age, fighting it is not
necessary. But to age in the healthiest way possible, again its about
balance and caring for our internal bodies. Topically, using skincare
that uses rich, nourishing oils is fantastic. Our Pure + Simple
Ayurveda – Vata Face Oil is a wonderful blend of organic sesame oil,
ghee and restorative essential oils – its a great replenisher for the
skin. Also, our Collagen Elastin HCH Serum is amazing! It is the most
popular item across all of our spas because its so effective. It
infuses moisture into the skin and helps to repair skin damage. I love
that its a combination of natural ingredients with advanced technology.
I'd like to thank Kristen so much for being here on ModaMama. Hope you enjoyed it as well. You can check out her blog – Holistic Vanity for more tips, articles and information. You can also read my review of my favorite Pure+Simple product here.
If you have any questions for Kristen, please ask in the comments!
In my attempt to be more natural with my cosmetics, I've recently discovered the world of at-home easy to make face masks. Here's one I recently, tried:
1/2 a ripe banana
1/2 a very ripe avocado
2 tablespoons honey
2 tablespoons olive oil
Puree it all up and apply onto a clean dry face. Relax for 15 minutes then rinse off with warm water. Tone and moisturize.
I used my hand blender to puree for about 5 seconds.
My mask turned out a little runny since I had to add some avocado oil as I had run out ripe avocado.
So simple! I put the mask on and answered emails and forgot about it on my face. I
realized only a bit later when I wondered why I kept smelling banana. I
didn't understand it at all. And then I remembered!
It left my face feeling really hydrated. The banana and avocado are deeply nourishing, the honey is hydrating and cleaning and the olive oil richly moisturizing. And don't worry it doesn't clog pores. Trust me, I think I have the most cloggable *is that a word?* pores on the planet and they were fine.
Kids, do try this at home.
In review today is an super easy, cheap and all natural shampoo and conditioner: Baking Soda and Apple Cider vinegar. It really worked! I was a little hesitant about it, but thought it was incredibly easy worked better than any other product I've tried – organic, expensive shampoos to drug-store cheap brands.
Here's what I did:
I made myself tea, than enjoyed that morning cup of brew.
Once finished I got a regular sized drinking cup and put about two tablespoons of baking soda inside. Then I filled the cup with the leftover kettle water which was by now warm not hot. Then I grabbed the cup, vinegar and spoon and headed up to the shower. Once in the shower, I poured the baking soda and water *it looked clear, maybe slightly foggy* over my hair thoroughly. I made sure that it hit every spot of my hair. Once empty, I rubbed and massaged my head just like with any other shampoo. It does feel odd as there is no lather and your hair just feels wet, but don't worry about that. When you're done, rinse well.
Take the spoon and pour about two tablespoons of apple cider vinegar into the cup you just used. Then put the cup under your shower to fill it with warm water up to the top. Once that's ready, pour that mixture all over your hair thoroughly as well. Leave it for a bit *I did some other washing up in that time* and then again rinse thoroughly.
Now at this point I was a little dubious because my hair felt a little odd but I wanted to see the result.
Fast forward.
My hair was incredibly silky smooth! Seriously, it hasn't been this silky for as long as I can remember. I can probably quote a friend here, "My hair is just too silky today!" You have got to try this!
This isn't recommended for frequent use for color treated hair.